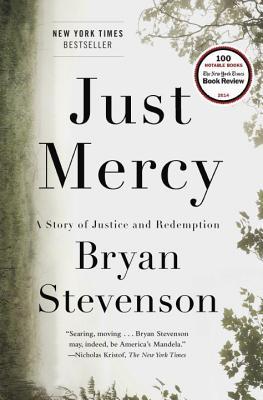 Lawyer Bryan Stevenson, founder and executive director of the Equal Justice Initiative, does a stellar job sharing stories of people whose lives have been horribly disrupted by failures of the U.S. legal system. Despite the heartbreak within the pages of Just Mercy, Mr. Stevenson presents a story of hope and determination.
By sharing the stories of his clients, Mr. Stevenson connects readers with the humanity of those affected by incarceration. Beyond headlines that feed on our natural fear of violence and longing for safety, the lives of individuals and communities are being disrupted irreparably by a system of criminalization that heavily punishes those who are poor and from marginalized communities.
After reading the story of Walter McMillian, wrongly convicted and sentenced to die, readers who support the penalty might change their minds. In Just Mercy, Mr. Stevenson shares the details of Mr. McMillian's case, as well as stories of other innocent prisoners who have been exonerated. Along the way a solid case is made for abolishing the death penalty, and for necessary reforms in the meanwhile.
The United States incarcerates more of its citizens than any other nation in the world. The statistics woven throughout the narrative of Just Mercy paint an astonishingly stark picture. For example, children who are subjected to abuse and neglect in their homes, and who later end up in court for nonviolent offenses, often receive harsh sentences and little opportunity for the care that could lead to healing. There are laws to protect offenders with intellectual disabilities, but theses laws cannot help if defense attorneys do not highlight their relevance to a particular client's situation. Prosecutors and judges who want to appear "tough on crime" must still honor legal protections for the accused, or they risk punishing innocent people.
For anyone with an interest in social justice, and a longing to resolve inequalities created by poverty and racism in the U.S., Just Mercy makes an inspiring read. After finishing Just Mercy, learn more about the work of the Equal Justice Initiative on their website, where links are available to resources on the death penalty, imprisonment of children, and mass incarceration.
Disclaimer: This review is freely given, based on a copy of Just Mercy borrowed from the local public library. No fee was received.